Mission Statement, Philosophy & Services
Mission Statement:
To provide comprehensive behavioral and educational services designed to maximize quality of life for individuals with special needs.
---
Philosophy:
BEC respects individual personalities by considering all environmental factors and supporting by providing a support network to caregivers and supervisors (which include family members, school personnel, supporters at care homes, and managers in an organization) of the individual.
---
Services Offered:
ABA Therapy (Home)
School Shadow (School)
Consultation (Home, School, Office, Institution, Company Visit/ Skype™/ Phone)
Functional Behavioral Assessment (Home / School)
ABA Workshop/Group Parent Training
ABA Seminer ("Wemura-Jyuku": Tokyo, Kobe, & all of Japan—Japanese language only)
---
Client Base:
BEC provides comprehensive behavioral and educational services (CBES) to individuals between the ages of children, teens, and adults with a variety of developmental, psychiatric, learning and behavioral disabilities including, but not limited to: Neurodevelopmental Disorders (Intellectual Disability, Communication Disorders, Autism Spectrum Disorder, Attention- Deficit/Hyperactivity Disorder (AD/HD), Specific Learning Disorder, and Motor Disorders), Genetic Disorders (Downs Syndrome), Oppositional Defiance Disorder (ODD) and Schizophrenia Spectrum and Other Psychotic Disorders, Depressive Disorders, Anxiety Disorders, Obsessive-Compulsive and Related Disorders, Feeding and Eating Disorders, Personality Disorders, Disruptive, Impulse-Control, and Conduct Disorders.
---
Overview of Comprehensive Behavioral & Educational Services
ABA Therapy
An ABA Therapist provides a 1 on 1 direct behavioral intervention with the client by using ABA (Applied Behavior Analysis) principles.
For ages before elementary school, minimum of 16 hours of ABA Therapy/School Shadowing (Twice weekly sessions for 2 hours each for four weeks); 2 hours Consultation; and an IEP (individualized Education Program) update every 2 months to monitor the client's progresses.
From ages at elementary school, minimum of 8 hours of ABA Therapy; 2 hours of Consultation; and an IEP (individualized Education Program) update every 3-4 months.
*Extension of the number of sessions and hours per session are available upon request.
Language/Communication, Social, Play/Recreation, Self-Care, Compliance, (Pre) Academic, and Motor Skills are tools used to target and discourage challenge behaviors, while promoting desirable ones.
BEC focuses on Pivotal Response Treatment® (PRT=Natural Environmental Learning), Discrete Trial Teaching (DTT=Table-based Structured Learning), Verbal Behavior Approach (VBA), Picture Exchange Communication System (PECS), Positive Behavioral Support (PBS), and Social Skills Training (SST) as teaching strategies.
Consultation for parents, teachers, supporters, employers and employees is also provided ABA techniques while answering any questions they may have.
They are also welcome observe the session at any time.
School Consultation and Shadowing
A Behavior Specialist or Consultant goes directly to the child's school to teach school personnel ABA techniques on how to manage the child's behaviors in the school environment. The therapist can also shadow the client (1:1) in the school environment.
*Please note that this service is only available if the School Principal and Class Teacher are willing to allow the Behavior Specialist or Consultant to visit the school.
Functional Behavioral Assessment (FBA)
FBA is a series of assessments used to comprehensively evaluate the language and communication, social, play, self-care, (pre)academic, adaptation skills of the client. A Functional Assessment Interview (FAI) with parents and/or school personnel, direct behavioral observation, and Stimulus Preference Assessments (SPA) are just a few of the methods of assessment. FBA is extremely useful in understanding the current level of client's abilities while helping to create an individualized behavioral intervention plan (BIP). The BIP is a set of individualized in-home and/or school ABA program goals. It also helps determine the most effective structure of the behavioral intervention in the home, school, and community environments.
ABA Workshop/Group Parent Training
ABA worship and group parent training are sessions designed to help parents and caregivers gain knowledge and clinical skills in Applied Behavior Analysis (ABA), and to learn how to effectively implement behavioral intervention on children in home and school.
Parents, school personnel, Students, Volunteers, Medical Personnel, and anyone interested in ABA are encouraged to attend.
Free Consultation
BEC provides a free first time consultation (1 hour).
[Option A]
BEC Office Visit (Kobe)
[Option B]
Online (zoom)
If you would like to receive a free consultation, please send us an email to: info@becintl.com.
Operation Hours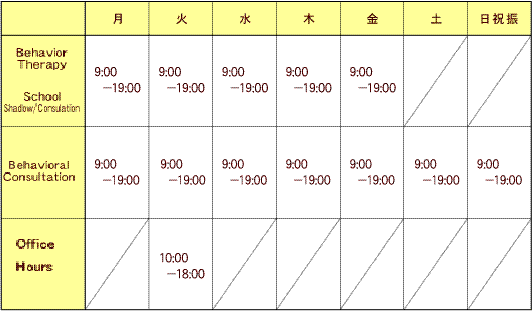 Service Fees
Session fee + Transportation fees (round-trip) + Travel time fee (round-trip) [+ Stay fee]
Office Visit=No charge on Transportation fee & Transportation time fee.
Behavior Therapy / School Shadow (Monday-Friday)

In-Home
Twice a week (include: 2 hrs of Behavioral Consultation)
Once a week (include: 2 hrs of Behavioral Consultation)
173,800JPY/month
103,400JPY/month

Behavior/School Consultation

Monday-Saturday (M-F=9:00-19:00/Sa=9:00-18:00)
12,100 JPY/hour
Special* (Mon-Fri anytime after 19:00/ 10:00-18:00 on Sundays & National Holidays)

Wemura's Consultation

17,600 JPY/hour

24,200JPY/hour
Transportation/Travel/Stay Fees:
Transportation Fees from Clinic to the Client's Home/School (Round Trip)
Travel Time Fee: 1,100 yen per hour of travel time (Round Trip)                                                                                                                  Stay Fee: 22,000 yen per day (session more than 2 days/when staff needed to be the location the day before)
Contact Information
If you have any questions about comprehensive behavioral services provided by the BEC, please feel free to contact us via email or phone call.
4-1-3-3512 Asahi-dori Chuo-ku, Kobe, Hyogo 651-0095 JAPAN
Phone & Fax:078-242-5051 (From outside of Japan: +81-78-242-5051)
Email:info@becintl.com
Website:http://becintl.com
Hiroaki WEMURA
Executive Director
Japanese Psychological Association Certified Psychologist (#7108)
Certified Mental Health Social Worker (#39617)
Certified Toys & Child-Care Adviser (#0938)
English & Japanese available